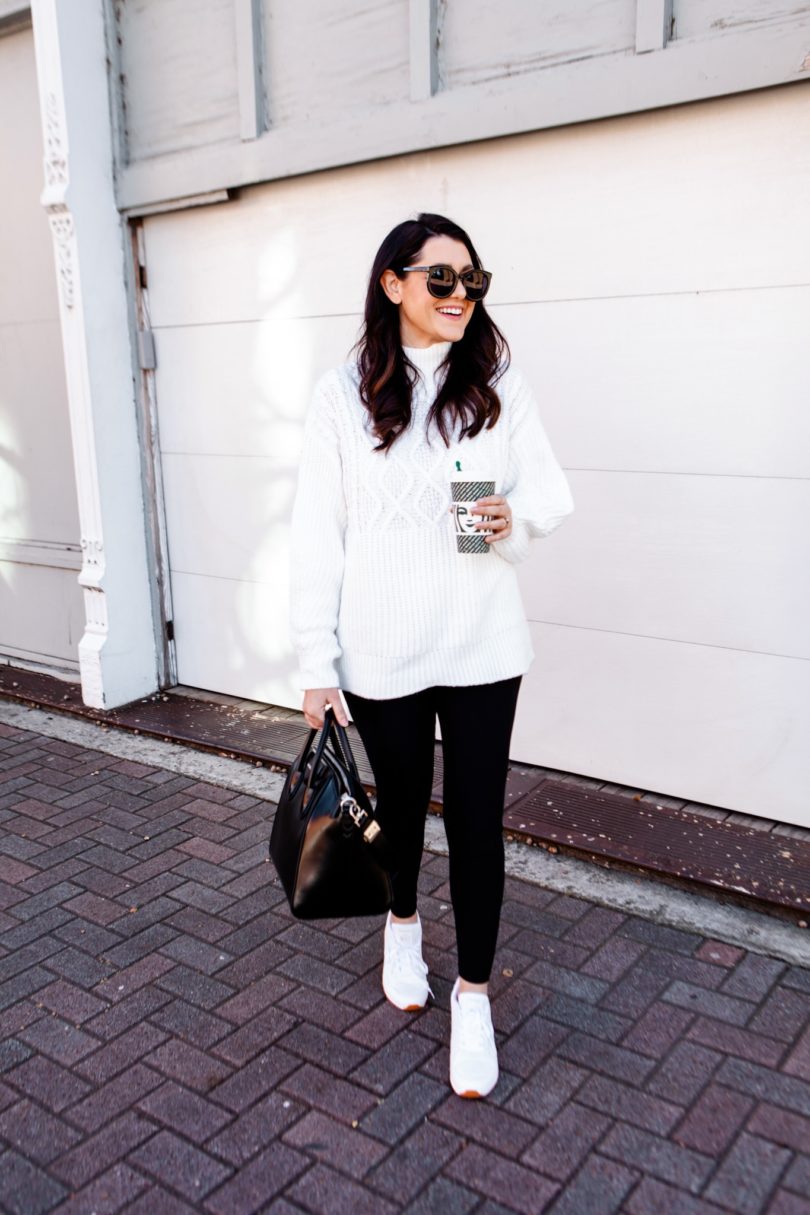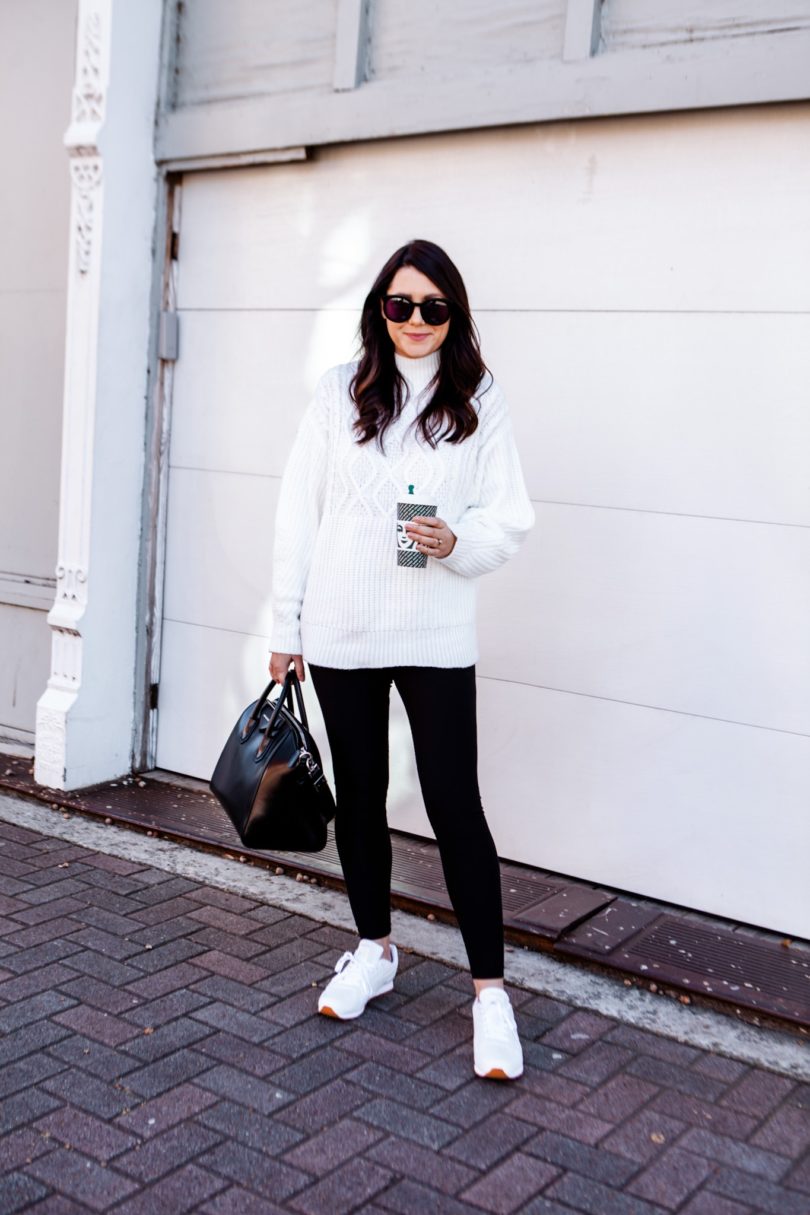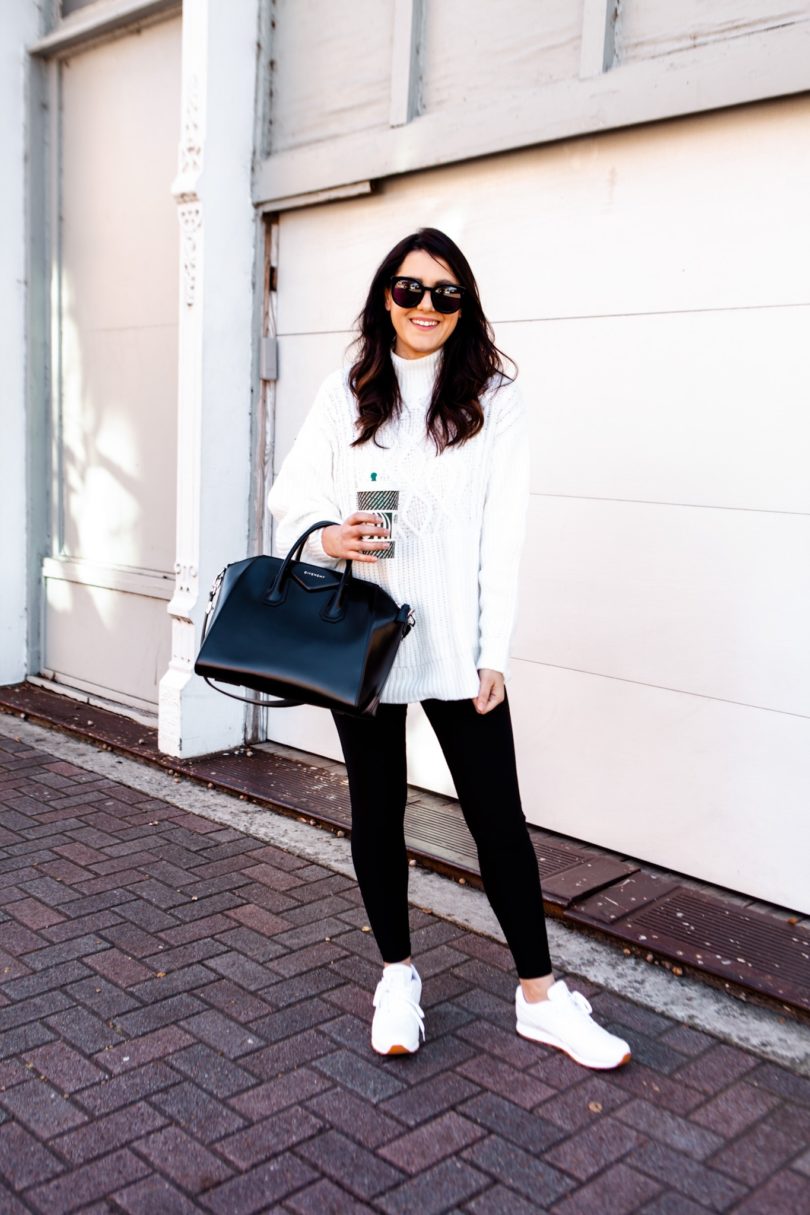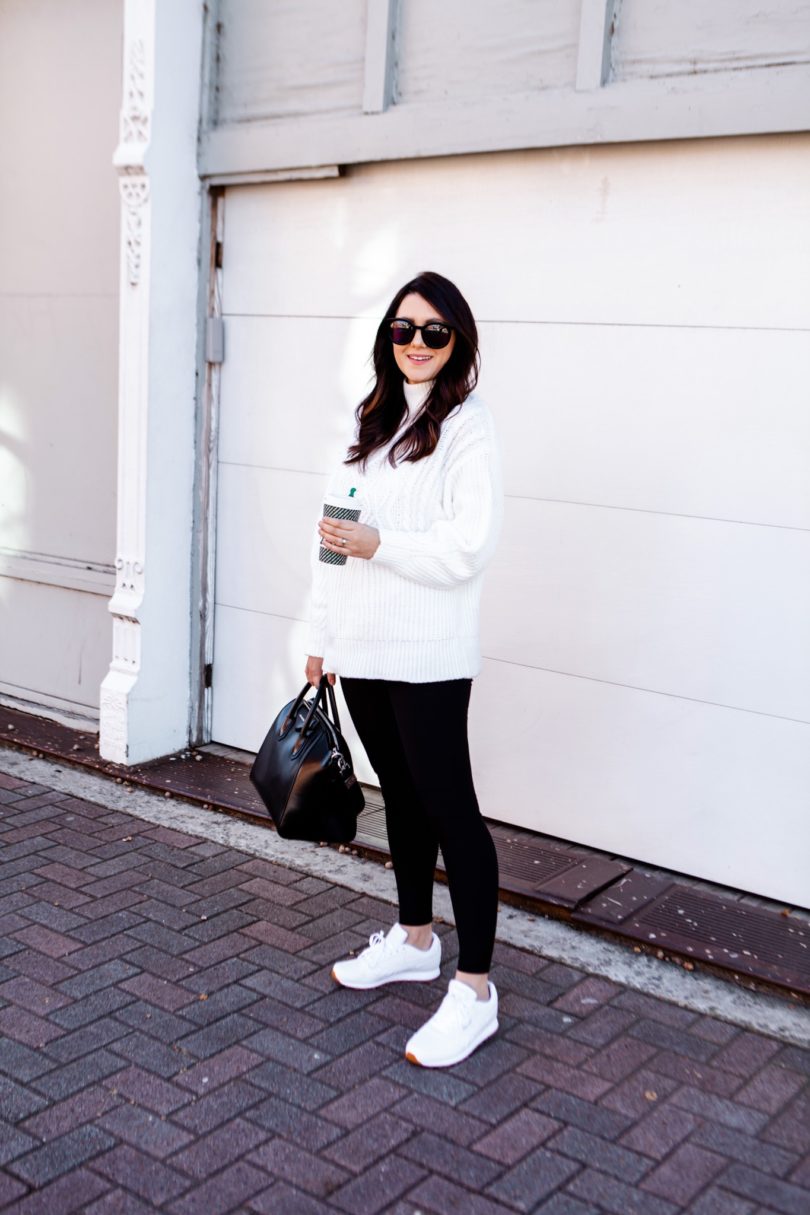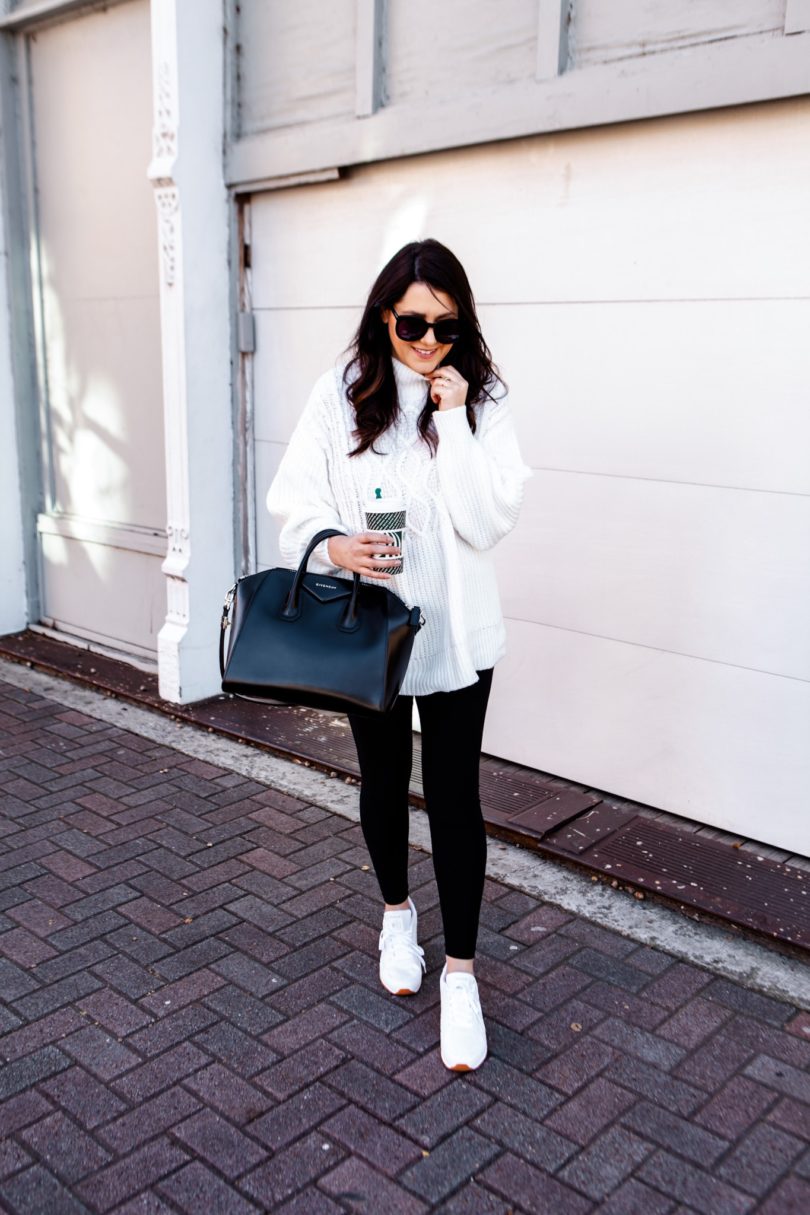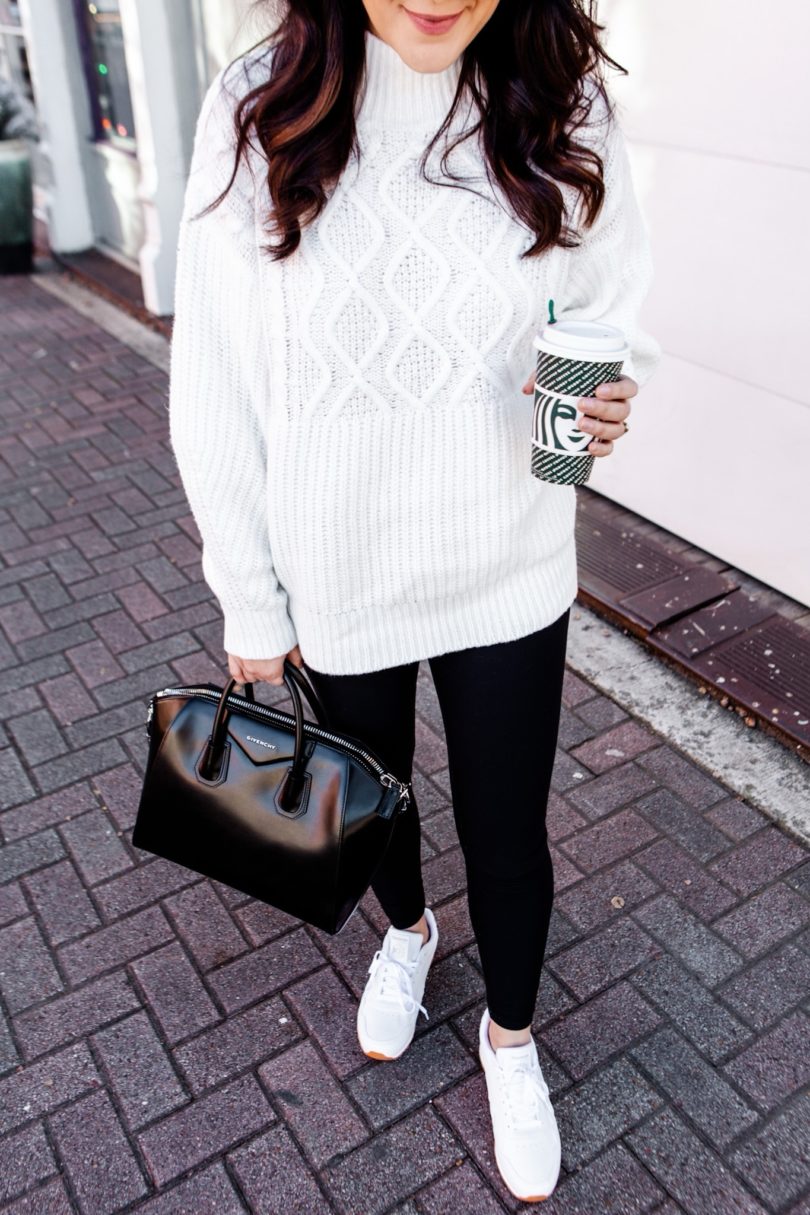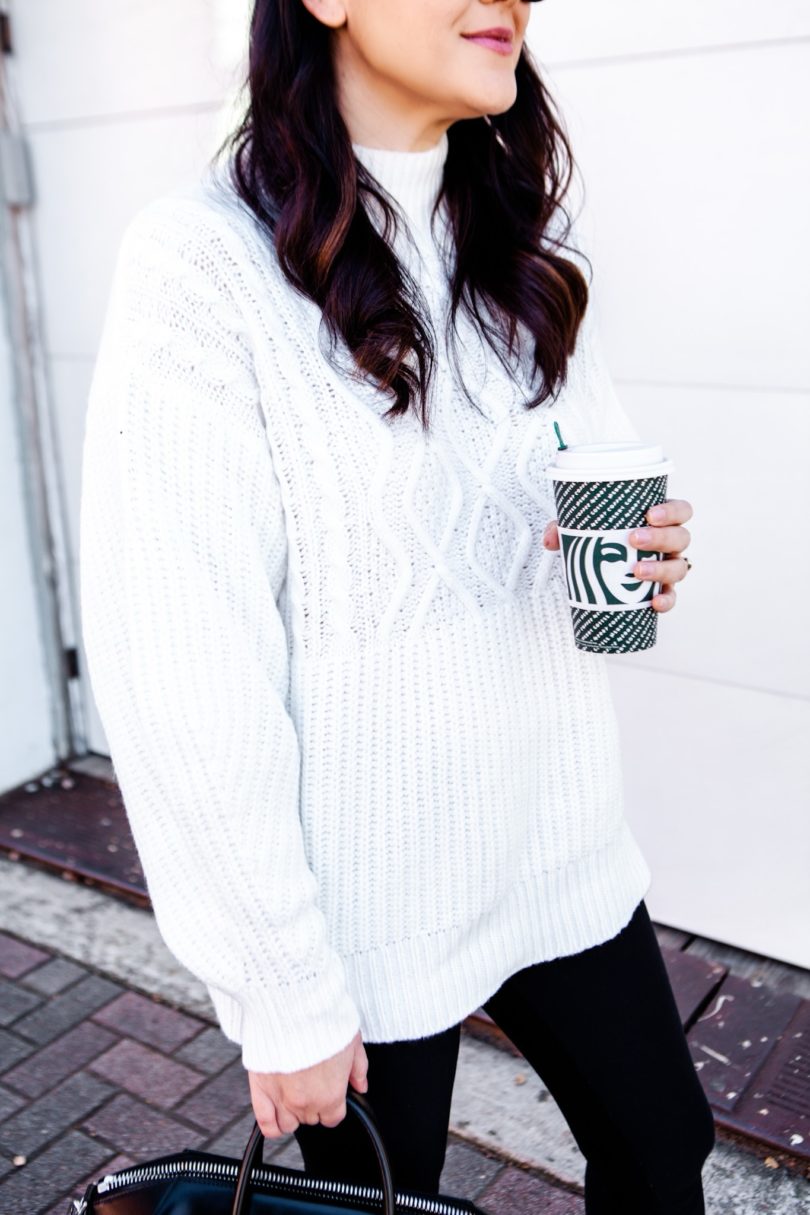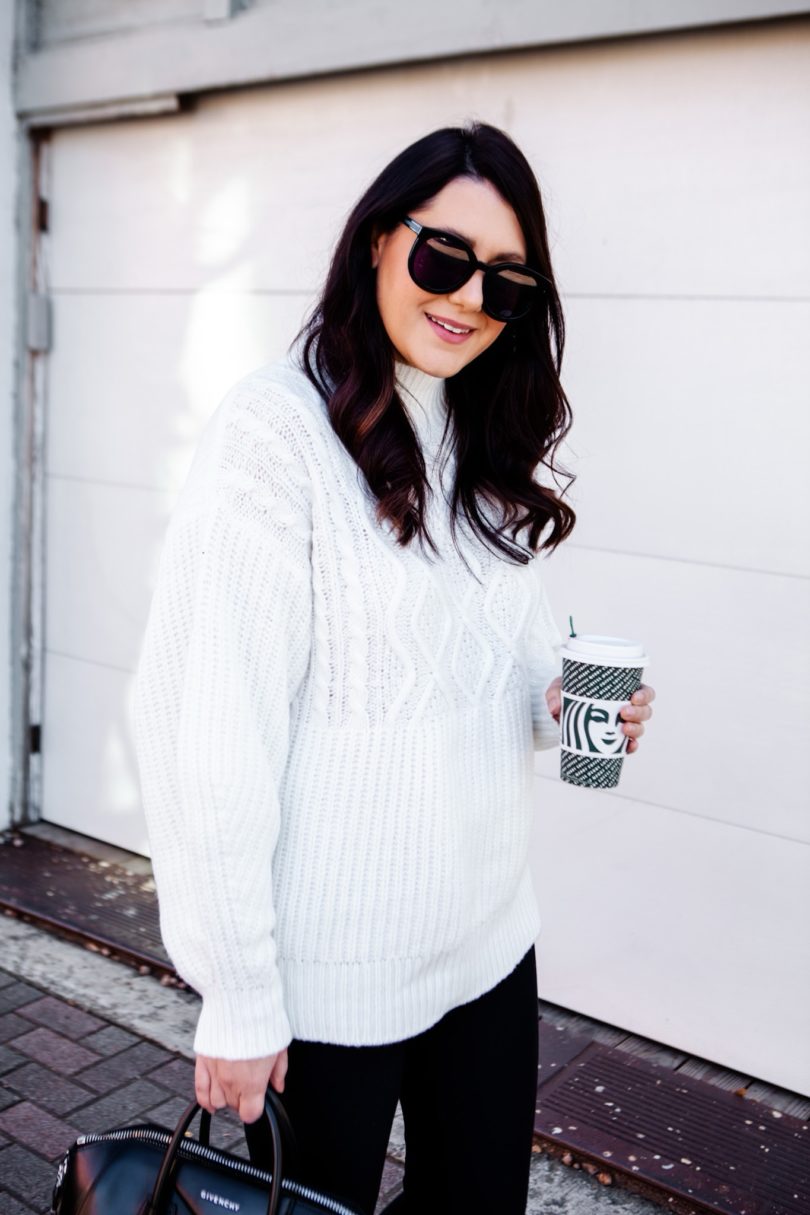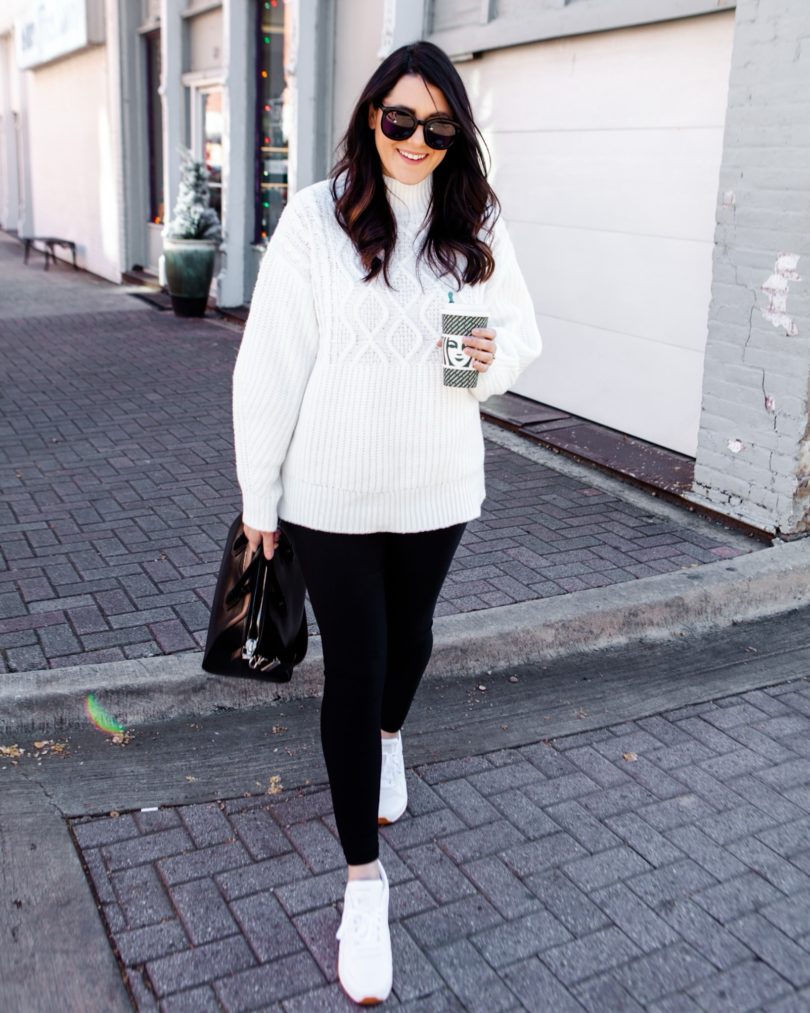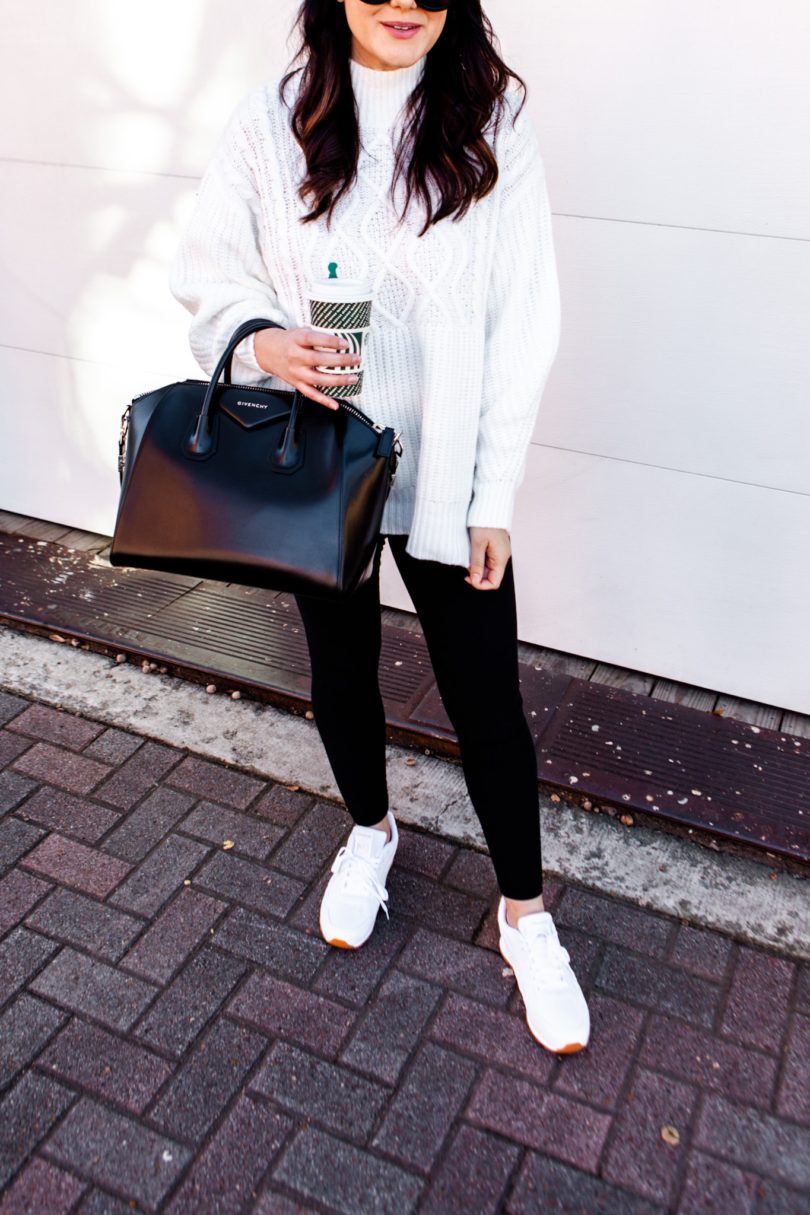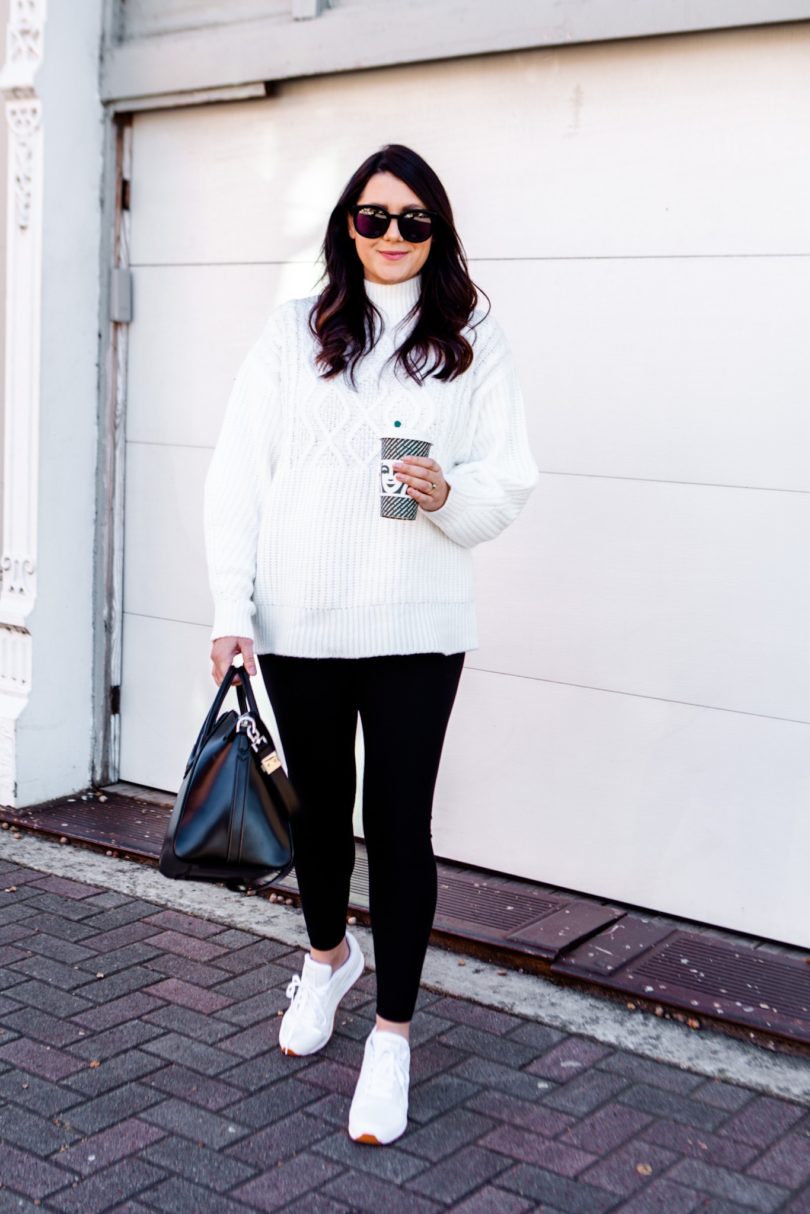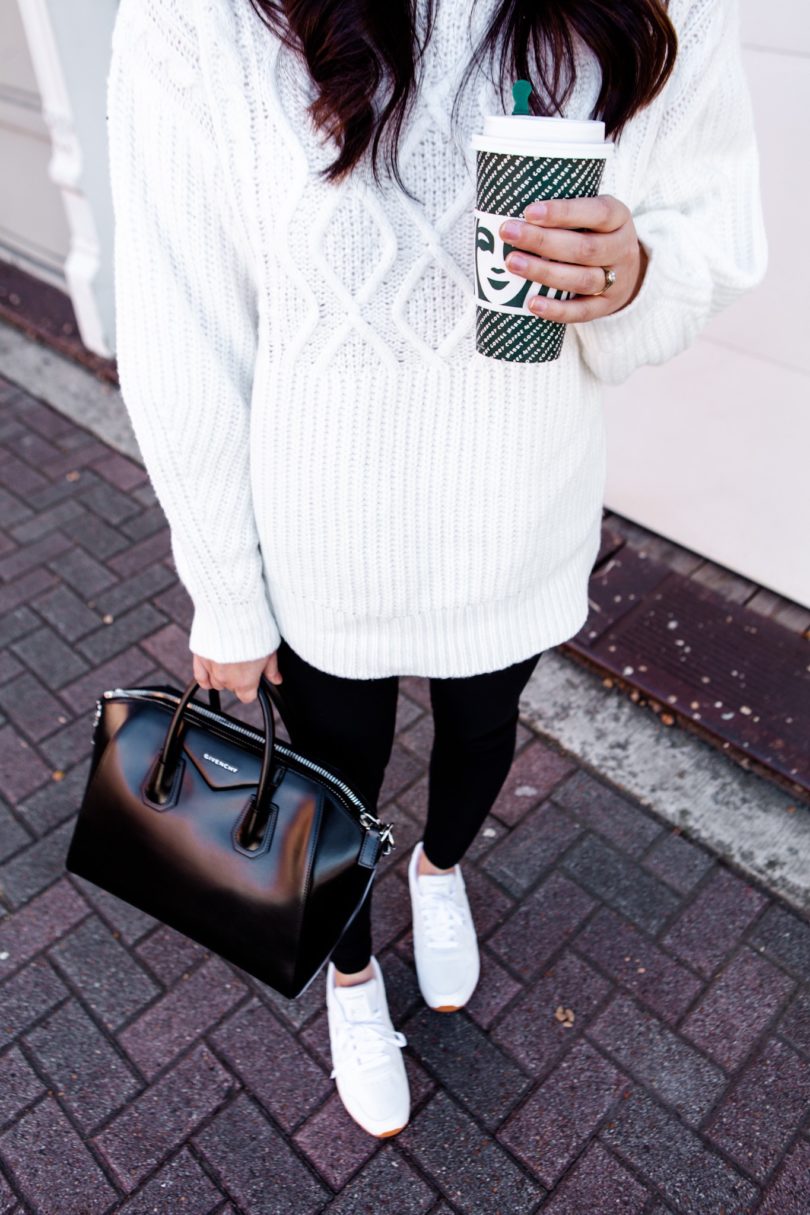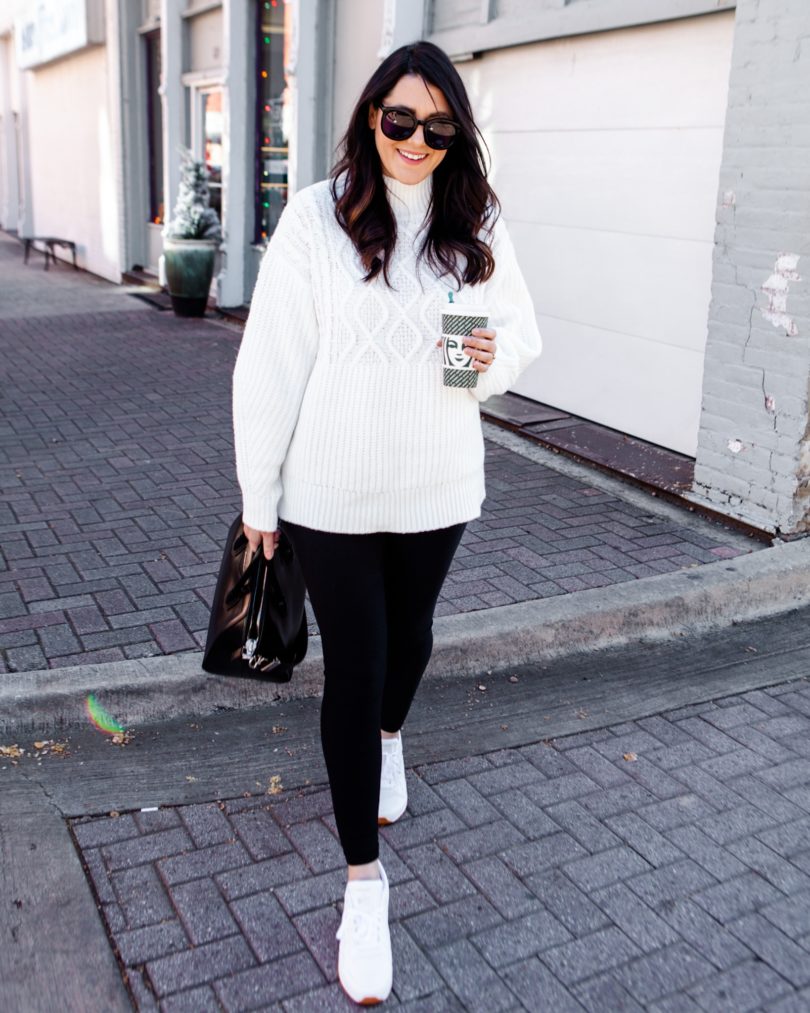 I don't know if this look is your thing, but maybe it should be. A sweater that you would regularly wear with denim (like this one here) paired with yoga pants or leggings and sneakers is the coziest combination for this time of year. You know, it's the time of year that we don't want to be more than comfortable. But you also know that you can't walk in your pajamas, or well, you shouldn't. At least right now in 2019 you shouldn't. Perhaps the year 2020 will blow our minds and pajamas as professional clothing will finally be acceptable to everyone, not just those who work from home. But until then, finding something that's cute but can also travel or run errands is a difficult balance to find.
Enter the oversized sweater + yoga pants combo. I'm telling you, it's what all the cool kids are wearing these days. (And yes, I include myself in this cool kids' club. And no, I wasn't invited. This has never stopped me.) I bought this sweater from Target and it's too big and a little ridiculous in that way, but I love it. It's not super soft, but it's big and cozy. I'm in the medium and find it fits me perfectly oversized, the medium lady. You can find it here! (If you need it in a hurry to travel this weekend, try shopping online and drive! It's so easy, I do it all the time at Target. Yeah, I do it for the sweaters lol. I once did it for a jacket for Gemma because we had a cold front early on and her old coat didn't fit her and she needed one ASAP it's a dream come true see all 2019 hasn't been a dumpster fire we've picked up in the car in target.)
Find this sweater here!
Do you know what I ordered for Christmas? (Is that sentence completely wrong as well? The word 'for' following the word 'for' feels wrong.) I ordered another set of these leggings. This is the high waisted legging from Zella and they are my absolute favorites. They last for years and years. They're actually 5 years old, guys. They are starting kindergarten in the spring. But aside from some pilling at the seams near my booty, they show no signs of age or wear. You can find this pair of dynamite leggings here!
Also a quick quiz to see how long I can keep my new white sneakers this white. Because we all know you're going to tell me to make them Scotch Guard and I'll go out and buy a can of Scotch Guard and never do it. What do we think? 2 days? 2 weeks? Let me know your best guess. I feel like it will be a blob of ketchup on the top of the shoe in about 3 weeks. I'll keep you posted so you can sleep at night.
Find my sneakers here!
Just a few more days before Christmas! I can't even believe it's here already. Aren't you as ready as I am? Let me know.